Please note that any used Tires can be returned to Bolton Hyundai during normal business hours, free of charge, for proper disposal.
Tires for Your Hyundai
Surfing for Winter Tires or All Season Tires for your new or used Hyundai? At Bolton Hyundai's Service Centre, we have several brands to choose from such as: Michelin, Firestone, GoodYear, Firelli, Dunlop and many more. Our trained technicians will install and balance all the tires on your Hyundai professionally so can enjoy a quiet, smooth ride to where ever you are going.
Deals on Tires for Your Hyundai
Tires have been a vehicle's most important safety feature for more than 100 years. Tires are what keeps your car gripped to the road and we understand that you are shopping for a great deal on tires for your Hyundai. This is why our experienced professionals at Bolton Hyundai can assist you in finding the best deal on tires for your Hyundai. When shopping for tires for your new or used Hyundai, it is important to note your rim size and the type of tire you are shopping for.
How to Read Tire Size - Tire Diagram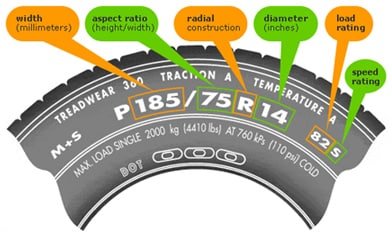 It is important to know your vehicle's tire and it is crucial to have all the same size tires. To read your vehicle's tires and rim size, you will need to understand what all the number mean. The sidewall of your tires hold a great deal of information of your tire including the manufacturer, its brand name and most importantly it's aspect ratio. The first number in this group indicates the width of the tire, measured from sidewall to sidewall, in millimetres. The second number states the sidewall height as a percentage of the width. The "R" indicates a radial tire. Other codes you might find are "B" for belted bias and "D" for diagonal bias. This code shows the diameter of the tire, in inches. The load index codes range from 0 to 27 with majority of passenger tires rated between 70 to 110. The speed rating is a letter code, from A to Z, that indicates the maximum speed capabilities of the tire.